People in England can start thinking about booking foreign holidays again this summer, Transport Secretary Grant Shapps has said.
But he said the cost of the Covid tests required needed to be driven down, amid criticism from the travel industry.
Mr Shapps has also given more detail on the traffic light system which will see countries graded on their risk.
Passengers will have to take the tests before leaving and on returning – even from low-risk "green" countries.
There will also be a watch list for countries most at risk of going from green to amber to provide greater assurance for those looking to travel abroad.
Announcing the findings of the Global Travel Taskforce set up by the government to examine how leisure travel could be reopened safely after lockdown, Mr Shapps said foreign holidays would resume on 17 May at the earliest.
He told the BBC: "This is the first time I'm able to come on and say I'm not advising against booking foreign holidays.
"Yes, you'll want to check what the situation is in two or three weeks' time when that list – the green, amber, red, is produced – you'll want to know that you've got good holiday insurance and flexible flights and the rest of it.
"But for the first time I think there is light at the end of the tunnel and we'll be able to restart international travel, including cruises by the way, in a safe and secure way, knowing about the vaccinations, everything we know about the disease this year, and of course that abundance of caution – having the tests in place."
The traffic light system will grade foreign destinations as being:
Green: Passengers will not need to quarantine on return, but must take a pre-departure test, as well as a PCR test on return to the UK
Amber: Travellers will need to quarantine for 10 days, as well as taking a pre-departure test and two PCR tests
Red: Passengers will have to pay for a 10-day stay in a managed quarantine hotel, as well as a pre-departure test and two PCR tests
Mr Shapps said the use of PCR tests – those needing to be sent to a lab – enabled scientists to detect potential variants of concern.
But he said he was "concerned" about the cost of the tests, adding that the government was committed to driving down the price of these by working with the private sector.
The transport secretary also said the government was looking at the possibility of people bringing pre-departure tests with them that they can use before boarding their return flight, pointing out that people are now able to order free lateral flow tests.
'Uniquely spread across the world'
Mr Shapps said countries would be categorised based on level of infections and vaccinations, variants of concern and the quality of their genetic sequencing.
He said this list would be kept under constant review and that he was hopeful European countries would be upgraded as their vaccination rates improve.
Mr Shapps also said he was concerned about people who were separated from family members living overseas, saying it was "possibly even more pressing than the holiday issue".
He said families in the UK were "uniquely spread across the world", and the government wanted to make sure people were able to reunite.
The government has not yet said which countries will be green, amber or red – but said it would do so by early May.
Nearly 40 countries are currently on the UK government's red list of countries from which travel is banned, except for British and Irish nationals and those with residence rights in the UK.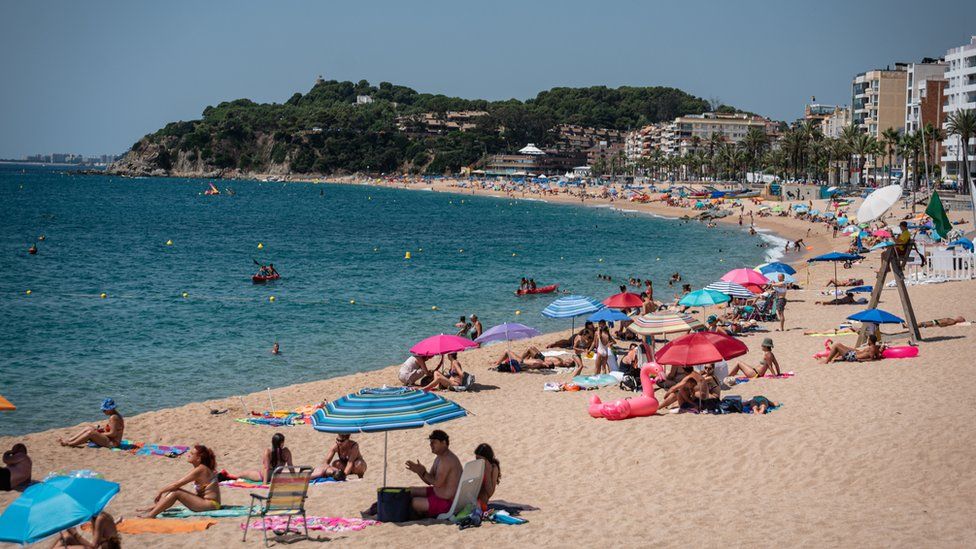 The rules will be reviewed on 28 June to see whether any measures can be rolled back, the government said.
Further formal reviews will take place at "checkpoints" no later than 31 July and 1 October.
Shadow home secretary Nick Thomas-Symonds said the government had not outlined the traffic light system in detail and criticised the release of the plans while MPs are not sitting.
He told the BBC: "The government has spoken about factors like vaccination rates, infection rates, the position with variants and also about the level of genomic sequencing. But I've no idea what the levels of each of those are for the government to place countries into, whether it's the green category, amber or red."
The first ministers of Scotland and Wales have both already argued that 17 May will be too early for foreign holidays to resume.
Northern Ireland has not yet announced its plans, but its chief medical officer has said it would be "premature" to book a foreign summer trip.
In other developments:
At the moment, almost anyone seeking to travel to England must first take a coronavirus test before departure and then two tests when they arrive, bought through a private provider. Children under 11 are exempt.
Consumer group Which? estimated that each PCR test – which is just one of the tests needed – could cost about £120 per person.
However, the government said it would work with airlines, travel firms and the test providers to see whether prices can be reduced. That could involve cheaper tests, or the government providing the pre-departure tests.
What is the travel industry saying?
The government's plans have been met with mixed reaction from the travel industry.
Heathrow Airport chief executive officer John Holland-Kaye expressed concern about the requirement for PCR testing, adding "we need to make sure that travel is something anyone can do and is not just something for the wealthy"
Industry body Airlines UK said that the proposed framework "does not represent a reopening of travel as promised by ministers"
Mark Tanzer, boss of travel trade organisation Abta, said permitting the use of lateral flow tests would "make international travel more accessible and affordable"
Jet2.com has extended the suspension of its flights and holidays up to 23 June following the government's announcement
Tui said it was "disappointed" at the "expensive" testing and quarantine measures proposed